Break a part? Check first to see if it is covered under warranty. If not, you can buy the component at the prices below and be assured of the same quality as the original KIO hexbeam.  Or, if you are building your own hexbeam, we can supply some of the components.
Spreader Arm Sections

Replacement tubes for hex beam spreader arms are available from our vendor, Max Gain Systems here. The hardware shown at left here must be added to the tubes to completely outfit spreader arms. Usually the hardware from the original arms can be re-used.
Air Coax Center Post, Equipped for 6 Bands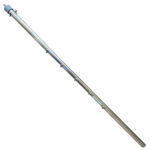 The new extra strong V-7 Air Coaxial Center post is made of 6061 T6 aircraft grade aluminum with 1/8 inch walls, stainless steel, and has six sets of terminals for a hexbeam with up to six bands. The center post fits into the top of the base plate and has an eye bolt on the top for anchoring radial support cords that extend to the ends of the spreader arms. The insulators on the terminals are PTFE for high current and heat resistance. Your 50 ohm coaxial cable connects to a high quality Teflon insulated SO 239 female connector mounted at the top of the center post for an ideal match to the hexbeam. Moisture and UV radiation are not a problem with this premium quality center post. This center post will fit only hex beams manufactured after March 30, 2022. If you desire a center post for legacy hex beams made before April 1, 2022, please e-mail us so we can custom modify this center post for your hexbeam. There will be no charge for modifying the center post.
| | | |
| --- | --- | --- |
| Order a center post | Price | |
| Air Coax Center Post | $174.00 | |
Base plate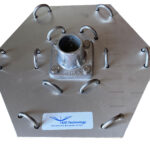 The KIO Technology hexbeam base plate comes with all U bolts and top center post flange. It has a hole in the center to accommodate a V7 center post (1.31 inches O.D.) with its extended mast section of 8 inches.
The base plate is made of 3/16 inch thick 6061 T6 aircraft grade aluminum and the top flange is magnesium aluminum alloy. The U bolts are made of stainless steel and all other hardware is stainless steel.
| | | |
| --- | --- | --- |
| Order one complete base plate | Price | |
| KIO Technology Base plate | $109.00 | |
Bottom fixtures for legacy hex beams
If you have a legacy KIO Hexbeam purchased before April 2022 you can install a new stronger mast fixture as shown below.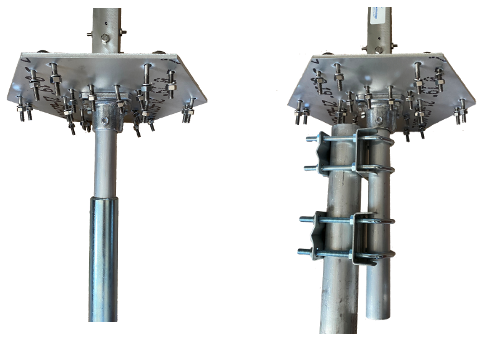 By installing just a bottom flange with a 1.32″ I.D., you can insert your 1.25″ O.D.push up mast with shims into the flange and cross bolt it. Or insert into the flange a one inch (1.31″ O.D.) pipe mast and cross bolt it. Or, use this flange and stub to insert into your larger mast or use a pair of pipe to pipe clamps to fasten your hex beam to your mast. The three components shown below are available to convert a legacy baseplate/center post arrangement to a very strong fixture for your mast.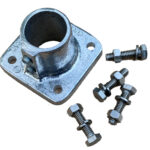 Aluminum/magnesium alloy flange with mounting holes that fit any KIO baseplate. The center hole is 1.32" Dia. a perfect fit for a one inch pipe. Good fit for push up masts with a bit of shimming. Bolts are included.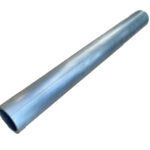 Tough aircraft grade aluminum 6061 T6 Sch 40 pipe, (1.31″ O.D.), 12 inches long. A perfect fit for the flange above.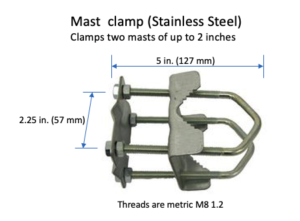 Stainless steel pipe to pipe clamp that will fit a two inch diameter mast. Generally two are required.
Order one                                             Price
| | | |
| --- | --- | --- |
| One bottom flange and bolts | $20.00 | |
| One 12″ stub (1.31 in. O.D.) | $15.00 | |
| One pipe to pipe clamp | $19.00 | |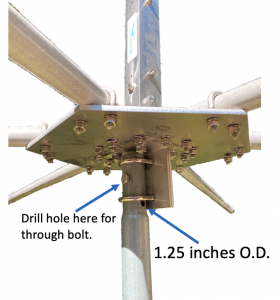 Shown to the left is the legacy hexbeam (purchased before April 2022) coupled to a standard push up mast. The two back to back steel brackets have U bolts that fit perfectly on a standard push up mast of 1.25 inches outside diameter. The U bolts are supplied along with the proper pinning bolt with your hexagonal beam at no extra charge. The back to back brackets fit to the baseplate using the same four holes used by the top center post flange.
Note that a hole must be drilled through your mast for insertion of a pinning bolt to prevent the hex beam from slipping in the U bolts and getting out of alignment with your rotator.
| | | |
| --- | --- | --- |
| Order Push up Mast Bracket kit | Price | |
| One (1) Kit | $28.00 | |
Support Cords
Attachments included, ready to install.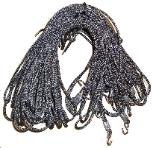 The support cords are 128 inches each with fixtures on the ends for pulling the hexbeam spreader arms up into its characteristic inverted umbrella shape. The cords are made of stretch free Kevlar with a Dacron cover for UV protection and are rated for 700 pounds break strength.
Each hexbeam requires seven cords; six radial cords plus one perimeter cord.
| | | |
| --- | --- | --- |
| Order support cords | Price | |
| One (1) ea Support Cord | $11.00 | |
| One set of Cords (7) | $75.00 | |
Replacement Center Post Stub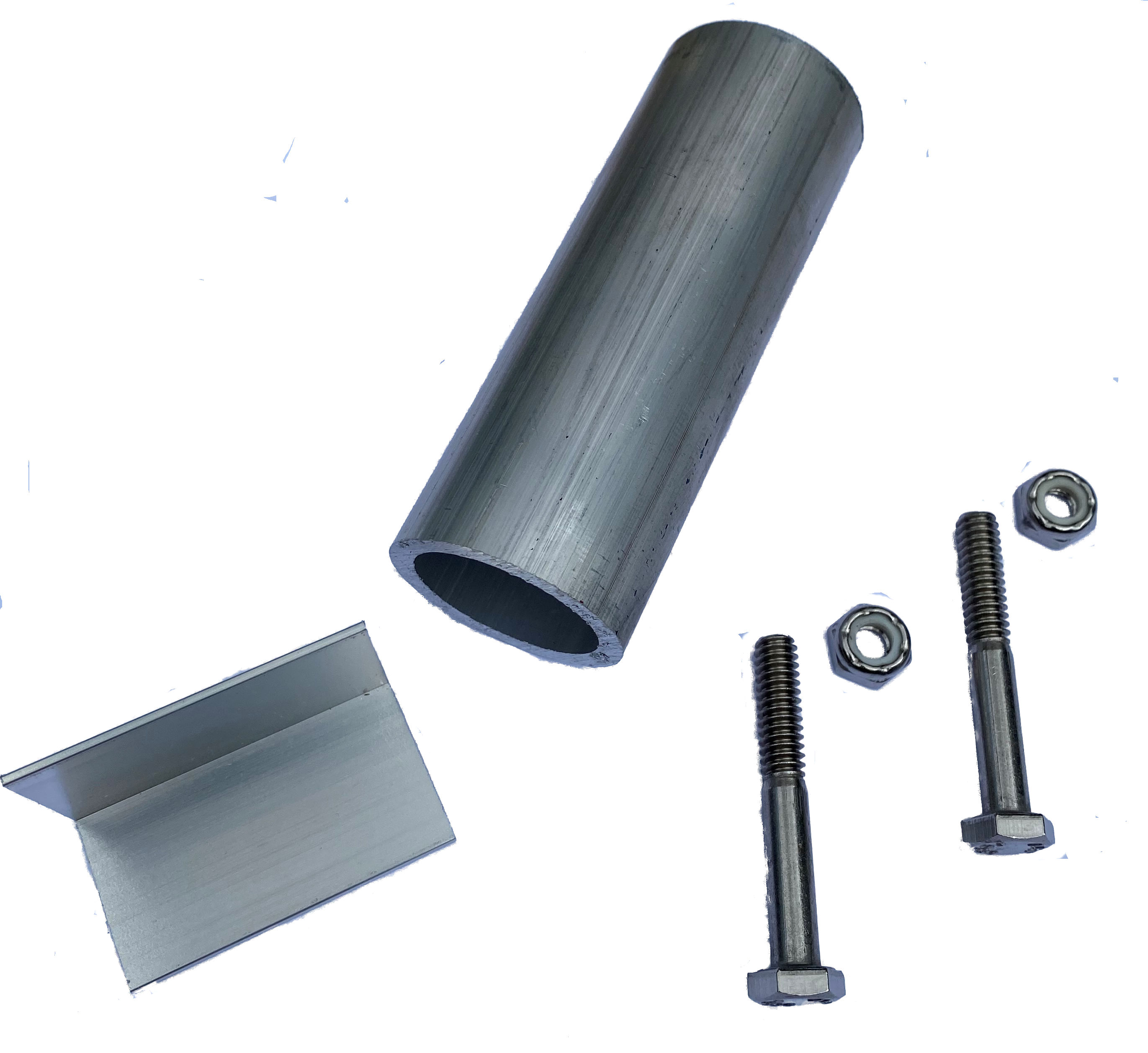 The replacement center post stub is metal and designed to retro fit all legacy air coaxial KIO center posts purchased before April 2022, no matter how old. It comes with a shim for fitting snugly and two 1/4 inch X 1 3/4 inch hex bolts and nyloc nuts. Two holes must be drilled in your center post for the through bolts. Directions are supplied as to how to install this center post stub.
| | | |
| --- | --- | --- |
| Order replacement center post stub | Price | |
| One (1) ea Stub | $10.00 | |

Tuned Wire Set
Completely assembled, tuned and ready to install. Includes wire set only, no spreader arm wire guide hardware is included. If you want the wire guide hardware, order an Add Band kit on the Main Store page.
$49.00

Spreader Wire Guide
Each wire guide attachment includes one EDPM rubber coated, aluminum wire guide and one stainless steel clamp. Six are needed for each band.
$3.00
If you are looking for ice cords, add band kits or ferrite bead baluns, check the main Store page.