KIO Hexbeam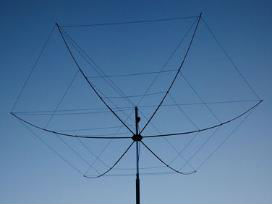 This plug and play hexbeam is available for any combination of bands 20, 17, 15, 12, 10 and 6 meters. This is not a box of parts. The five main components are already assembled; you just plug them together in an hour and then get on the air and play.
Start with 20 meters. Any beam can be easily expanded now or later by purchase of additional bands.
So get started on 20 meters, the band that works even in the down sunspot cycle and add other bands as conditions get better. Or just order all the bands now. The price is the same.
We regret that due to a severe shortage of fiberglass tubes we are temporarily unable to manufacture hexbeams. We are hopeful this will clear up soon. If you wish to purchase a hexbeam when they become available, please let us know and we will contact you when we are able to provision hexbeams again. Or just check this page from time to time and when hexbeams are available, we will activate the "Add to Cart" button again. As always we will ship hex beams in the order of requests received. Find our e-mail address on our contact page.
Moreover, we will be out of the office until mid – January and any parts ordered must await our return to be processed. 
| | | |
| --- | --- | --- |
|            Order the KIO Hexbeam | Price | |
| KIO Hexbeam (20 meters only) | $469.00 | Temporarily out of stock |
| Plus 17 meters | $55.00 | |
| Plus 15 meters | $55.00 | |
| Plus 12 meters | $55.00 | |
| Plus 10 meters | $55.00 | |
|  Plus 6 meters | $55.00 | |
Mast Fittings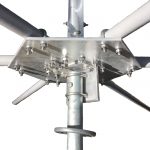 The hexbeam comes with your choice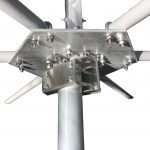 of the bottom bracket to fit a standard push up mast of 1.25 inches outside diameter as shown on the left, or for an extra charge, a universal clamp that will fit any mast size from 1.25 inches to 2.5 inches as shown on the right. You can see more detail on the universal clamp here.
If you don't order the Universal Clamp, the standard bracket for a 1.25″ mast on the left will be provided. Unless you are ordering a new hexbeam, do NOT order the Universal Clamp here; instead place your order on the Replacement Parts page. This clamp is provided instead of the standard fixture and is priced ONLY for sale WITH a hexbeam. (If you order the Universal Clamp here for $49 without ordering a hexbeam, your order will be canceled and your payment refunded.)
| | | |
| --- | --- | --- |
| Universal Clamp instead of the standard bracket | Price | |
| Universal Clamp (fits 1.25 – 2.5″ O.D. mast) | $49.00 | |
You need a balun for your hex feed line. Check out one of our baluns below.
Optional Accessories
KIO Ferrite Bead Choke Balun kits
-Five type 31 Mix ferrite snap on beads (see details)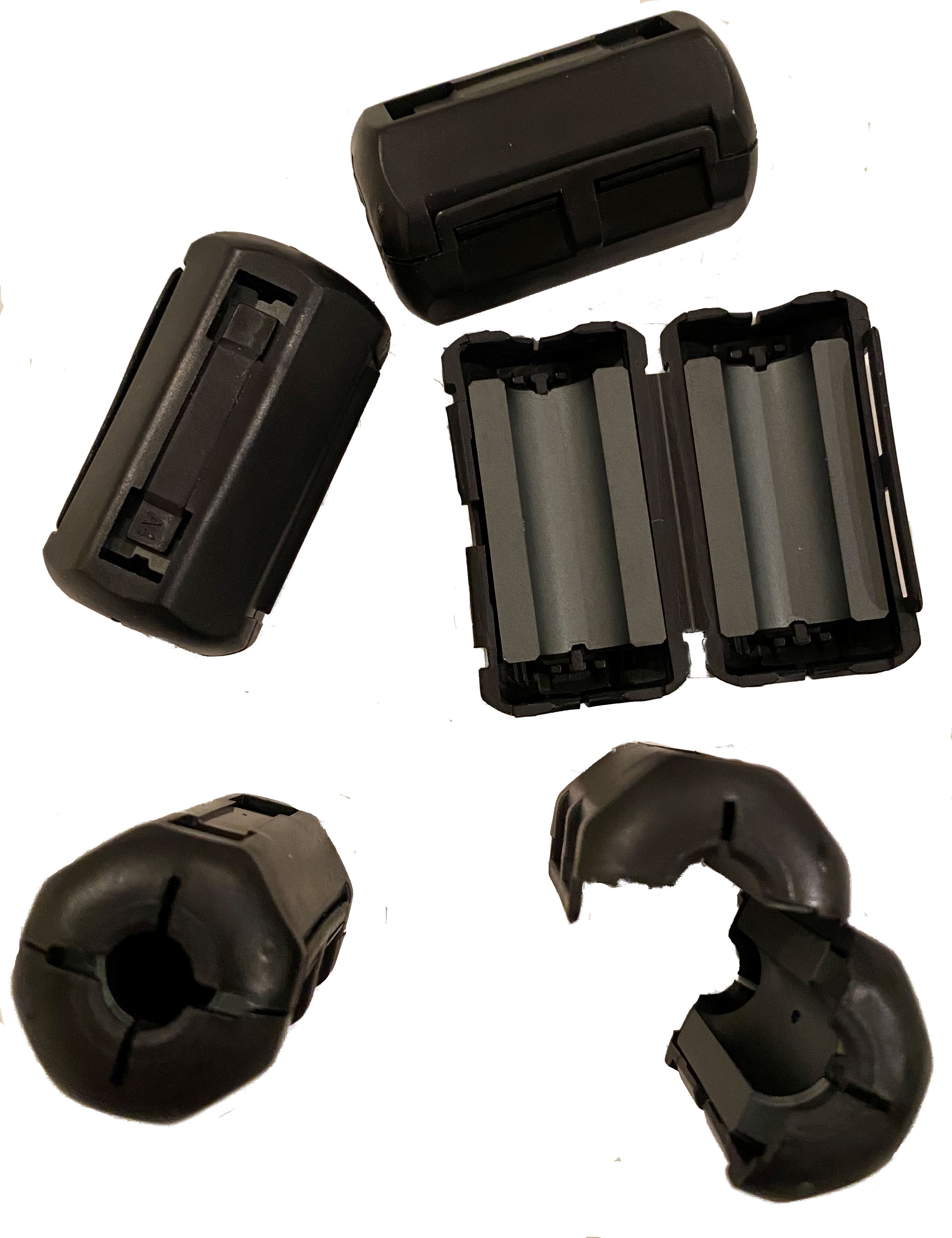 BAL-8 Snap On balun fits 1/2 inch cable (RG8, RG213, 9913, LMR400)
BAL-8X Snap On Balun fits 1/3 and 1/4 inch cable (RG8X, RG58, LMR200)
Ideal for cable that is already assembled with connectors installed.
| | | |
| --- | --- | --- |
| Item | Price | |
| BAL-8 Snap On for RG8, RG 213 size cable | $39.00 | |
| BAL-8X Snap On for RG8X, RG58 size cable | $24.00 | |
Ice Cords
Six Kevlar, no stretch cords with Dacron covering and hardware attachments at each end of each cord for reinforcing your spreaders against ice and snow.
Recommended for heavy ice and snow regions. (see details)

| | | |
| --- | --- | --- |
| Item | Price | |
| Set of Six (6) Ice Cords | $59.00 | |
 Add a band to your existing KIO Hexbeam. 

When ordering new bands on an existing hexbeam, all needed wire guide hardware is included. Kit includes a tuned, fully assembled wire set and spreader arm wire guide hardware, for each band ordered and clear, easy to follow installation instructions. 
| | | |
| --- | --- | --- |
| Item | Price | |
| 20M Add band kit | $55.00 | |
| 17M Add band kit | $55.00 | |
| 15M Add band kit | $55.00 | |
| 12M Add band kit | $55.00 | |
| 10M Add band kit | $55.00 | |
| 6M Add band kit | $55.00 | |