Coupling of the hexagonal beam to your mast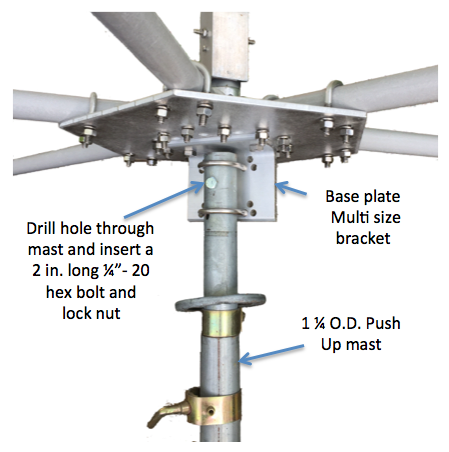 Shown here is the hex beam coupled to a push up mast. The bracket has holes to accommodate larger U bolts for coupling to larger masts. The holes will accept U bolts for masts that are 1 1/4 inches in diameter, 1 1/2 inches, 1 3/4 inches and 2 inches in diameter.
U bolts for a 1 1/4 inch push up mast are supplied along with the proper pinning bolt with your hexagonal beam. Other U bolt sizes with pinning bolts are available for an additional charge.
Note that a hole must be drilled through your mast for insertion of a pinning bolt to prevent the hex beam from slipping in the U bolts and getting out of alignment with your rotator.