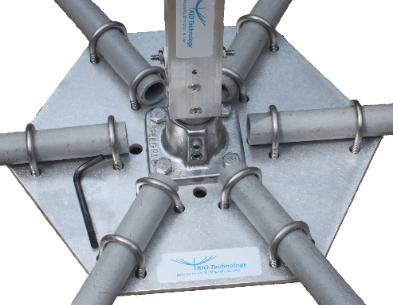 No plastic here for this foundational component of the hexagonal beam. The base plate is made of a very tough 6061 T6 aluminum base plate 3/16 inches thick and an aluminum magnesium alloy flange on top with a tough bracket on the bottom. All U bolts and flange bolts are stainless steel for corrosion resistant service.
No adjustments to get the center post plumbed or centered correctly with this baseplate. Just slide it in for a snug, wobble free fit and you're done. This simple but rugged design is tried and proven to be completely reliable and trouble free.
The bottom of the base plate fits onto your mast with a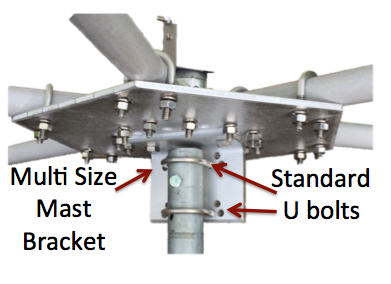 multi-size bracket that comes standard with two U bolts for a push up mast of 1 1/4 inch o.d. and a pinning bolt to hold the assembly from slipping. You can substitute other U bolt sizes for the standard size at no extra charge or just take the standard 1 1/4 inch size and then purchase additional U bolt kits for other mast sizes if you are not sure which size mast you will be using.
Baseplates and related hardware can be purchased as replacements or for do it yourself projects here.