Break a part? Check first to see if it is covered under warranty. If not, you can buy the component at the prices below and be assured of the same quality as the original KIO hexagonal beam.  Or, if you are building your own hexagonal beam, we can supply some of the components.
Spreader Arm Sections
We do not stock replacement fiberglass tubes. But for great prices, contact Max Gain Systems For exact replacements, order the following:
Large Spreader section (48 in. X 1 in.)                     RT-1-4
Medium Spreader section (48 in. X 3/4 in.)           RT-34-4G
Small Spreader section (48 in. X 1/2 in.)                 RT-12-4G

Spreader Wire Attachment
Each attachment includes one rubber coated, aluminum P clip and one stainless steel clamp.
$3.00

Tuned Wire Set
Completely assembled, tuned and ready to install. Includes wire set only, no spreader arm attachments are included
$45.00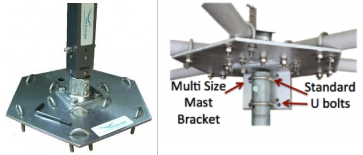 Baseplate with all hardware
Completely assembled, ready to install. Corrosion resistant stainless steel hardware, aluminum plate, includes 12 U-bolts for spreader arms and bottom bracket and U-bolts for attaching to mast size of your choice.
$89.00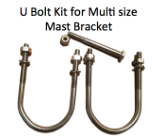 U bolt kit for base plate bottom bracket
Each kit includes two U-bolts, nuts and washers, and a pinning bolt with nyloc nut for the multi-size bottom bracket of our hexagonal beam for mast sizes below. All are stainless steel.
$11.00
Multi Size Mast Bracket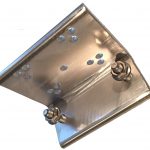 The heavy duty, corrosion free multi size mast bracket for various mast sizes is installed on the bottom of the KIO base plate. No new holes in the baseplate are needed. Two stainless steel serrated flange bolts and nuts are supplied. This bracket is a perfect fit for the holes and bolts used on the older style bottom flange base plate.
| | | |
| --- | --- | --- |
| Order a Mast bracket   | Price | |
| Multi size Mast bracket (No Hdwe) | $15.00 | |
Support Cords (1 cord)
Attachments included, ready to install.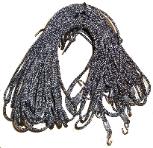 The support cords are 128 inches each with fixtures on the ends for pulling the hexagonal beam spreader arms up into its characteristic inverted umbrella shape. The cords are made of stretch free Kevlar with a Dacron cover for UV protection and are rated for 700 pounds break strength.
Each hexagonal beam requires seven cords; six radial cords plus one perimeter cord.
| | | |
| --- | --- | --- |
| Order support cords | Price | |
| One (1) ea Support Cord | $10.00 | |
| One set of Cords (7) | $69.00 | |
Air Coax Center Post, Equipped for 6 Bands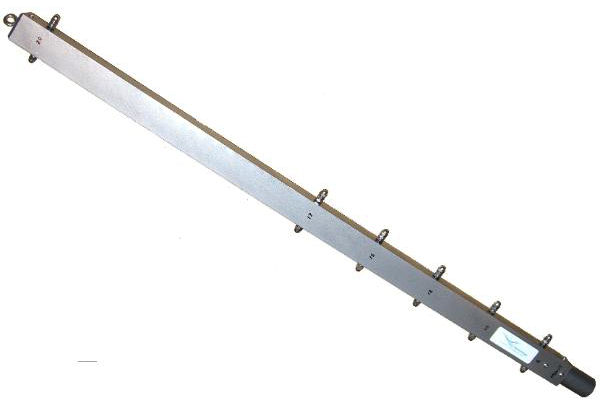 The Air Coaxial Center post is made of polished aluminum and stainless steel and has six sets of terminals for a hexagonal beam with up to six bands. The center post fits into the top of the base plate and has an eye bolt on the top for anchoring radial support cords that extend to the ends of the spreader arms. The insulators on the terminals are PTFE for high current and heat resistance. Your 50 ohm coaxial cable connects to a high quality Teflon insulated SO 239 female connector mounted at the top of the center post for an ideal match to the hexagonal beam. Moisture and UV radiation are not a problem with this premium quality center post.
| | | |
| --- | --- | --- |
| Order a center post | Price | |
| Air Coax Center Post | $129.00 | |
If you are looking for ice cords, add band kits or ferrite bead baluns, check the main Store page.