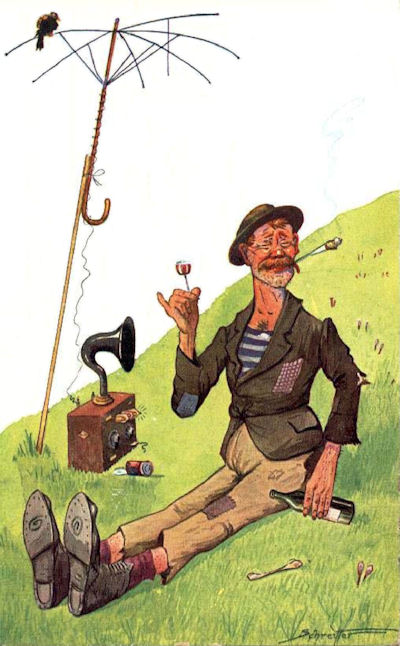 One point of big confusion after hex prospects have begun thinking about how to get the hexagonal beam in the air is the issue of masts. Whether the beam is mounted on a rooftop tower, a push up mast, a conventional tower or just about any other support structure, it still must have a mast to fasten the hex beam to.
And that invariably leads to the decision as to what thickness of mast should I use?
As in many things mechanical, there are measurement conventions that can seem downright confusing unless you know the ground rules. This is not a tutorial on all the conventions of pipes and masts, tubes and the rest. But here are a few concepts.
Pipes are what you find at Home Depot and Lowes in the plumbing section. Generally, they are measured by INSIDE diameter, not outside. A one inch steel pipe will be about 1.3 inches outside diameter.
Antenna masts are based on outside diameter for measurement purposes. If you get a 2 inch mast from DX Engineering, it will be 2 inches outside diameter. Tubes are measured based on actual outside diameter. So if you want a 2 inch mast, look for a 2 inch tube, not a 2 inch pipe.
You can go to on line vendors such as onlinemetals or metalsdepot and find both pipes and tubes. The tubes are available in steel or aluminum and a wide selection is available. Best of all, you can get a short piece that is shippable at a reasonable price. So if you want a 2 inch O.D. piece of aluminum that is 2 feet long, you can get it at places like these.
There is another choice for hex beam masts and this is found in the electrical section at Home Depot. It is Electrical Metal Conduit (EMT), usually made of galvanized steel. These are measured by inside diameter but not too precisely. The outside diameter will always be greater than what is listed on the rack in Home Depot. E.g., a one inch EMT conduit is actually 1.16 inches outside diameter. A 1 ½ inch EMT conduit is 1.74 inches, O.D. Do a little research on this stuff because it might not have the strength you need for a mast, particularly in long lengths.
Now, take a look at the table to see how these three types compare on sizing conventions.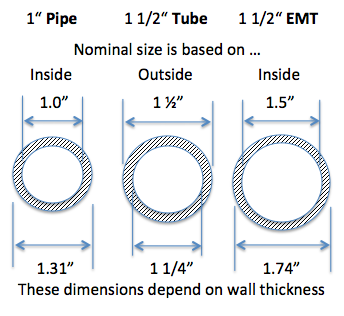 When you look at our hexagonal beam, you will find that the beam is designed with a standard bottom bracket and U bolts that will fit a 1.25 inch tube which is the size of the top of most push up masts made by Rohn and Channelmaster. For any other size mast you might have, the KIO hexagonal beam has available for an extra charge, a Universal Clamp Assembly to replace the standard bottom bracket which will fit any mast from 1.25 O.D. to 2.5 O.D.